What Are The Benefits Of Exterior Commercial Painting?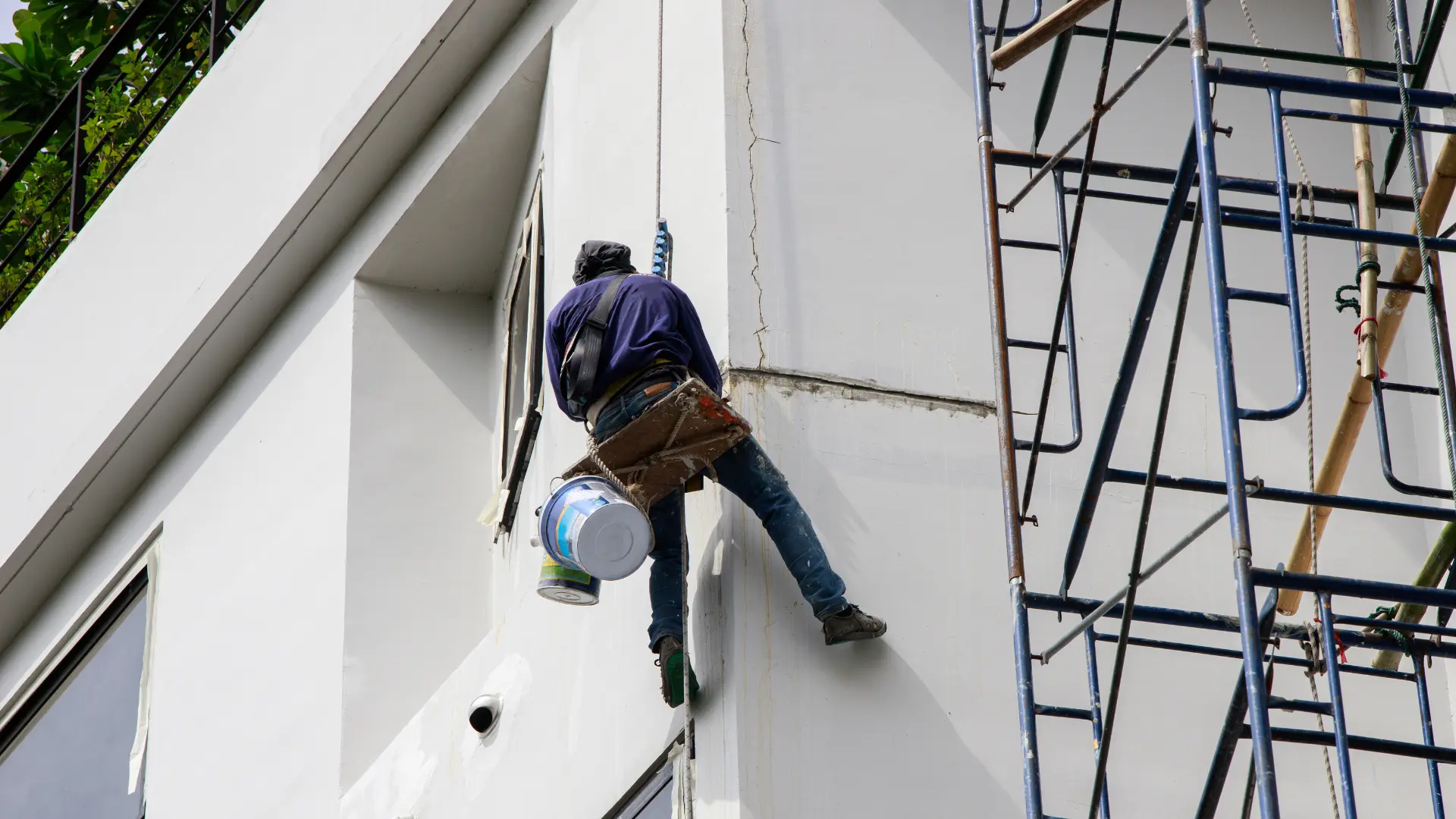 The first thing that people notice when they visit a residential or commercial property is the building's exterior paint. A bad exterior paint job that is peeling, stained, or faded can give a negative first impression that can be detrimental for businesses as well as homeowners looking to sell their property. On the other hand, an aesthetically appealing paint job that looks fresh and new can have significant benefits for both business owners and homeowners alike.

Apart from just aesthetics, a quality exterior commercial paint job also offers a ton of utility and can help protect the value of your property. It can also have numerous other benefits such as hiding flaws such as cracking, peeling, or chipping and protecting against natural elements which helps increase the longevity of your structural walls.

This is but a taste of the benefits of exterior commercial painting. To learn more about how a professional commercial exterior paint job can help benefit your business, read on!
10 Benefits Of Exterior Commercial Painting
If you are considering getting the exterior of your commercial property painted by professionals but are concerned as to whether the cost of doing so outweighs the benefits, we are here to tell you that that is never the case.

Hiring a professional to repaint the exterior walls of your business or home is not only one of the most affordable ways to renovate a property but also ensures a long-lasting investment. By entrusting the task to a skilled professional, you can expect a high-quality paint job that not only enhances the aesthetic appeal of your property but also provides durability.

Here is our list of the top 10 benefits of painting a commercial property.

1. Raises The Aesthetic Appeal of Your Property
A fresh coat of exterior paint makes the outside of your commercial property look amazingly fresh and appealing, helping potential customers spot your business from far away. Bright-colored paints or even a monochromatic black can help your building stand out from the rest, catching the eye of all those who pass by it.

2. Hides Damage & Flaws
A professional exterior paint job can help identify, mask, or even hide deeper-rooted issues within your exterior walls. During an exterior repaint, once all the old paint is removed, the walls are inspected for signs of mildew, water stains, cracks, mold, and even rotting wood which, if left unchecked, could result in expensive repairs or even a complete renovation.

Smaller issues such as stains, marks, chips, and other blemishes can also be easily covered by a fresh coat of exterior paint to make your walls look fresh again.

3. Increases The Value of Your Property
No matter the type of property you own, if you are looking to sell, a fresh exterior paint job can help raise the value of that property by a substantial sum. The first thing a prospective home buyer sees when they are visiting a property is the exterior and roofing. If those are in top-notch condition, that helps make for quite the first impression and can not only result in you getting a better price but also in helping you sell the property a lot faster!

4. Helps Protect Against Incremental Weather, Pests, & Natural Elements
Premium quality exterior paints have additional coatings that help protect your property against mother nature. Your exterior walls and roofing is the first line of defense against natural elements such as high winds, sunlight, snow, dust, bugs, debris, etc. As such, the exterior paintwork must be done by skilled commercial painters. They have the knowledge and expertise to choose the right type of exterior paint to protect against bugs and pests, mildew, mold, and other natural elements that can cause wear and tear on your walls and roofing.

5. Protects Against Staining & Peeling
Premium quality exterior paints are more resistant to staining and peeling as compared to interior paints or older or lesser quality exterior paints. This is because they are generally enamel, latex, or oil-based, whereas interior paints are water-based. These types of exterior paints are designed to be water-resistant and also provide improved surface penetration and adhesion, which allows them to last a lot longer without peeling, staining, or fading.

6. Increases The Longevity Of Siding & Trim
Certain types of exterior paint, such as high gloss, are perfect for exterior wood siding and trim. Apart from enhancing the aesthetic appeal of a property, they also help in sealing wood against the elements, preventing it from rot, moisture, and natural wear and tear.

7. A Fresh Coat of Paint Attracts More Customers
From a business perspective, keeping the exterior paint of your building looking fresh with an attractive color scheme can help pull in a lot more customers.

In a world where people's attention span is diminishing day by day, the choice of exterior paint and color scheme of your storefront can be the key to stopping customers in their tracks to look at your wares or simply walking by your store as if it doesn't exist.

8. Choice Of Exterior Paint Color Can Influence Consumer Behavior
Plenty of research studies prove that different colors evoke different emotions. For example, the color blue conveys tranquility and calmness, whereas the color green is often associated with nature.

The color you choose for the exterior of your business can thus have a psychological impact on all those who visit the property and can even impact consumer behavior.

The best example of this in action is if you look at Mcdonald's exterior color scheme. The inclusion of colors such as red, yellow, and black isn't just for aesthetic appeal. Black is a color that evokes feelings of professionalism and authority, red conveys urgency and triggers appetite, and yellow/orange promotes happiness and impulse buying. This is why it is often hard not to stop at a McDonald's every time you pass by one.

9. A Fast & Cost-Effective Way To Renovate A Property
An exterior paint job is by far one of the most cost-effective ways to refresh a property and make it look new. Whether you are considering rebranding the business colors or simply want a fresh look to attract more customers, getting an exterior paint job done by a professional is your best bet!

10. Helps You Stand Out From Your Competitors
If you have competitors around you selling similar products and services, it is even more essential that your business stands out from the rest. The best way to do that is with an attractive exterior paint job to one-up the other storefronts directly competing with you.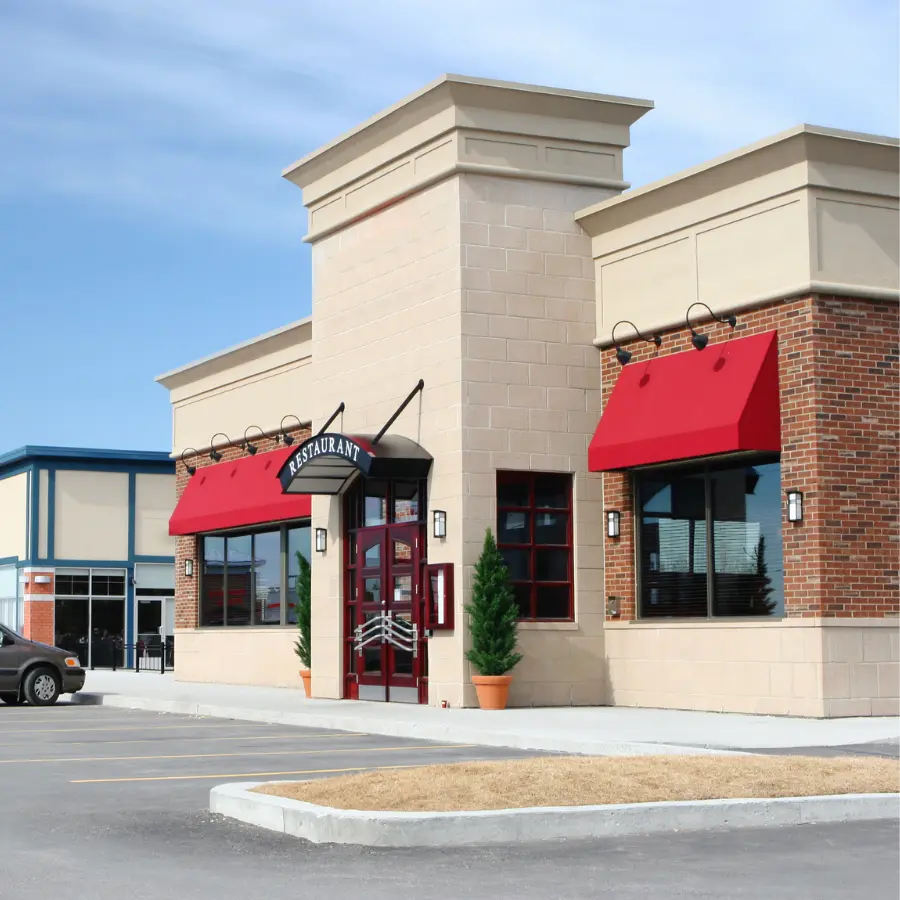 What Are The Tell-Tale Signs That Your Property Requires Exterior Painting?
There are many elements to managing a commercial property to make it attractive for customers and employees and to stay compliant with commercial building codes and regulatory requirements.

While peeling or faded paint isn't against any regulations, it can negatively impact your business in more ways than you think. Thus, you should always be on the lookout for signs that your building requires an exterior paint job. These signs include:
Peeling, chipping, and cracking of old paint
Fading of exterior paint that could be causing your building to look dull and unattractive
Water stains and visible signs of mildew and mold growth
A buildup of dirt and grime
Other Reasons Why You Should Consider Exterior Commercial Painting For Your Business
Apart from the benefits of exterior commercial painting, such as the ones stated above, there are other reasons why business owners should consider hiring professionals to paint the exterior of their commercial property.

If you are considering adopting a new color scheme or a complete rebrand of the business, matching the exterior colors to your new brand image is simply a must. It is the best way to let customers know that you have a new brand identity and a fresh new look to help them stay connected with the brand.

A fresh lick of paint can also help in boosting employee morale, as no one wants to work at a business that looks dilapidated or outdated. With a cool exterior paint job, employees are likely to take more pride in where they work, helping increase loyalty, morale, and even mood. This, in turn, can help increase productivity and create a better workplace environment.

Sometimes, a fresh coat of exterior paint is required for your business to continue to look modern and in tune with the times. As exterior and interior design trends are constantly changing, business owners need to adapt and change accordingly to keep their businesses looking modern and relevant.
Why Hire A Professional Exterior Commercial Painting Company?
Any successful business owner will tell you that "time is money." The last thing you want is for your employees or yourself to be painting the exterior walls of your commercial property instead of focusing on revenue-generating business opportunities.

Hiring professionals not only help save time but also gives you confidence knowing that the job is being done by experts who know what they are doing and can guide you on the best ways to get what you want aesthetically while also protecting your investment against natural elements and general wear and tear.

Specialist exterior commercial painters also offer special types of paints and coating that can further protect your commercial building from things like pests, insects, and even rodents while also improving air quality both inside and outside the business.
Frequently Asked Questions (FAQs)
Q) What Is The Best Type of Paint For Your Exterior Walls?
The best type of exterior paint for your commercial property is oil-based paints as they are affordable, durable, long-lasting, and water-resistant. You can also opt for enamel or latex paint types for exterior walls as they offer similar protection and cost around the same.

Q) How Much Does A Professional Exterior Paint Job Cost?
A professional exterior paint job can cost anywhere from $5000-$20,000 or more, depending on the type of paint you select, the square footage of the area that needs painting, and the number of gallons needed to finish the job. The cost of an exterior paint job can also vary depending on the season you decide to get it done. The prices in summer for labor tend to be much higher due to increased demand as compared to other seasons.

Q) What Are The Best Weather Conditions To Get The Exterior Of Your Building Painted?
Ideally, you would want to paint the exterior of your commercial property on days when the weather is moderate and fair and devoid of any rain, high winds, snow, or high humidity. The ideal temperature for an exterior paint job should also be around 55° F to 85° F. As such, in most places in North America, the best time to get the exterior of your building painted is during early spring or late fall.

Q) How Often Should You Paint The Exterior Of Your Property?
Even the highest quality and most durable exterior paints will likely last a maximum of five to ten years before showing signs of wear and tear. As such, on average, the exterior of your commercial property should be painted at least every 5-10 years if not sooner.
Final Thoughts
There is no denying that storefronts and businesses that have attractive and fresh-looking exterior paint tend to bring in a lot more walk-in customers. An attractive exterior paint job is seen as a sign of a thriving business which can automatically increase levels of trust and confidence in the eyes of consumers helping businesses close more deals.

As such, there is no reason why you shouldn't consider an exterior paint job done by professionals for your residential or commercial property. It is by far one of the most cost-effective solutions to make any property look fresh and new. Also, unlike other renovation projects that can get in the way of daily activities, an exterior paint job can be pulled off in a matter of days without disturbing customers, employees, and other stakeholders.